Meet the team
The Diving Almuñecar team is the main value of our company. If you want to know who we are, how we work, our experience, what we value most, etc., we present them below:
Yvan
Instructor de buceo y apnea, os llevaré a disfrutar bajo el agua con o sin aire. Empecé a descubrir estas disciplinas en el Caribe, donde me enamoré de los fondos marinos. He seguido aprendiendo y trabajando en Australia, Lanzarote y Menorca. Ahora estoy en Almuñécar para seguir transmitiendo este amor y pasión que siento por el buceo y por la apnea. Creo verdaderamente que todos podemos hacerlo, por eso tomo el tiempo necesario y escucho vuestras necesidades para que lo pasemos genial y que nunca olvidéis vuestra experiencia conmigo.
David
My name is David Egea, nickname 5 J, I am passionate about the sea both inside and outside of it. It turned my passion into my way of life. I am here to take you to a special world, each dive is a new adventure.
Ray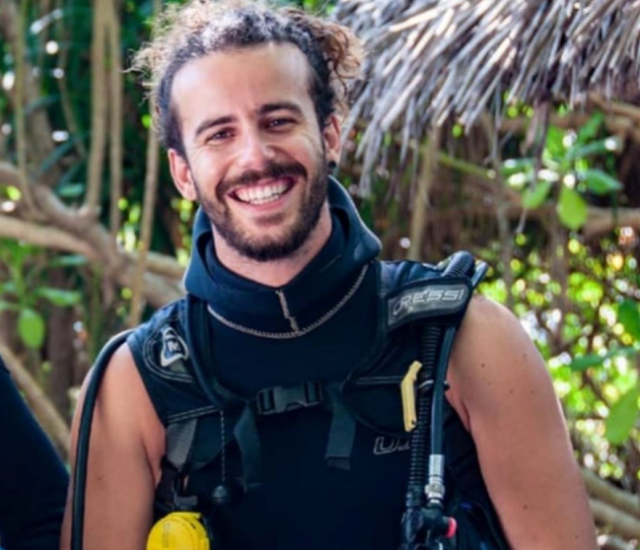 Después de viajar por el mundo, encontré mi camino y mi pasión bajo el agua. Os espero para haceros descubrir, o descubrir de nuevo, el mundo submarino.
Os daré la bienvenida en castellano, francés, inglés e italiano. Hasta pronto!
Jürgen
Comencé a bucear a una edad muy temprana, pero después de explorar el hermoso mundo submarino durante más de 35 años, y trabajar en muchos océanos templados y tropicales, ¡sigo siendo tan apasionado como el día que respiré por primera vez en el jardín de Neptuno!
Será un placer guiarlos o presentarles la hermosa y diversa vida marina de la Costa Tropical.